Summer Stations
At The Beach BIA On display until end of August.
Artwork on view: THROBBER – at R.C. Harris Water Treatment Plant The Epitonium – at Woodbine Park ARc de Blob – at Kew Gardens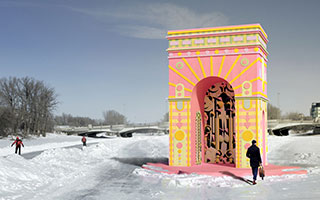 Virtual Pecha Kucha
Online-only Wed, Apr 21 7:00pm ET
This year, we will be hosting a digital version of our Winter Stations Opening Night Pecha Kucha. Members of the public are invited to meet the artists and learn about their winning designs from the comfort of their homes. The Pecha Kucha will take place on Zoom and will be hosted by the co-chairs of this year's jury, Councillor Brad Bradford and Tiffany Pratt, in partner-ship with our sponsors.
To register to attend the virtual Pecha Kucha, please complete the registration form. Attendance is free.
Spring Stations
At The Distillery May 21 to Late July
Artworks on view: ARc de Blob, From Small Beginnings, The Epitonium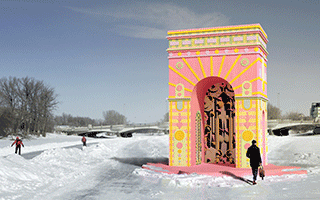 Spring Stations
At 33 Parliament May 21 to Late July
Artwork on view: THROBBER